About Us
---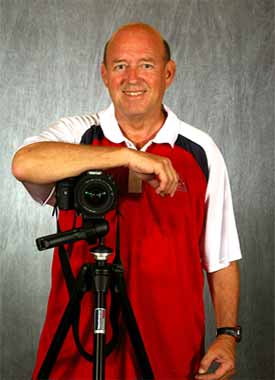 Gary Johnson spent the first 30 years of his career in manufacturing leadership positions at a major St Louis based chemical company. Very early during this period he bought a used 35mm camera and a Besslar 23C B&W enlarger from one of his foremen, and the rest, as they say, is history.
Over the subsequent years his passion for photography grew as did his darkroom. Hardware and equipment additions included a motorized Besslar 45MB color enlarger with a Dichro color head, automatic color compensation equipment and numerous cameras and lenses.
A winner of a variety of photo competitions, Gary enjoyed taking and making pictures for his family and friends - particularly sports pictures of his children and their school and select teams.
A major step-change in the world of photography occurred shortly before the year 2000 with the advent of digital imaging, about the same time that personal computing came within reach of most homes. Gary, who was a long-time user and proponent of leading-edge computer technology at work, saw the blending of these two major breakthroughs as a chance to bring the best of both worlds together. When the opportunity for early retirement presented itself, Gary quickly started his own LLC and began his second career in photography.
Originally from Michigan, Gary is a graduate of the University of Michigan with BSE degrees in Chemical and Metallurgical engineering. He has run over 20 marathons and enjoys family time with his wife and two children, coaching sports teams, and of course photography. Set in the woods, their current home presents many excellent opportunities for nature and wildlife photography.
---
Photo Assistants
| | | |
| --- | --- | --- |
| | | |
| Solveig is a Kindergarden Teacher at a local parochial school. Her hobbies include playing volleyball, soccer and biking | Jason recently relocated to St Louis from Wisconsin and enjoys volleyball and running. He is currently doing graduate studies at the seminary. | Sarah is an Art Teacher with a degree in early childhood education. She enjoys spending time with husband Bruce and their two children. |
---
PHOTOSHOOTS-ETC  SATISFACTION GUARANTEE
At PhotoShoots-Etc we strive to delight our customers with our products and service.  If you are dissatisfied for any reason, we will gladly reprint your order or refund your money (with the return of your previous purchase).  We are in business only thanks to you - our valued customers.  We welcome feedback and new ideas on how we can improve our service.  It is that simple -  "If you aren't happy, we aren't happy."
Gary Johnson President and CEO